Here are some posts from blogs I read frequently these are the ones that have either touched me or inspired me this week:
This one really touched me it was talking about realizing that grief could be a good thing. That is exactly the stage I'm at right now.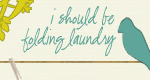 "The sound of the Wilderness"
For lent this insightful woman has giving up multi tasking (not sure I could but I should.) This post includes some of her observations of things she has noticed by giving up multi-tasking. The things she talks about reminds me alot about why I started 'needing' noise at all times after Mark passed away.


Last but not least
"The boys quilt"
After I made my first quilt with ALOT of help from my sister in-law
Becky
and her mom I thought I was done but I like this quilt so much I think I might try to make one more. Ry (the hubby) likes the quilt I made so I might make this 'boys quilt' for him!
PS here is a picture of the quilt Becky helped me make and
her blog
as well she just started so give her some love!